When La-Z-Boy called to ask me to design a room for their new Chicago showroom, I was on the fence. Me? Lover of luxury? Then, I took a peek at their newly revamped site and my perception of Archie Bunker-style recliners dissolved in a mist of pleather. What I saw were the building blocks of interior style; sofas, loveseats, deep armchairs with ottomans, sleek coffee, console and cocktail tables.  The merchandise was impressive. But, the prices were astounding. Having spent the past five years "doing" my house, I am only too aware how exorbitant furniture can be. A sofa can easily set you back 7K. These were a fraction of the prices I was accustomed to at my usual haunts. So, I rose to the occasion. I routinely show women how attainable fashion is at every price point. Why not prove this philosophy on the interior front?
 
Style: It's all in the details
 
THE DESIGN PROCESS
I decided create a family room where fashion meets function. To showcase my eclectic point of view, I wanted to pull together a cool mix of cozy but sophisticated furniture electrified by pops of color and statement making accents.  My design partners, Courtney and Christine got my "look" immediately. Together, we began to hunt and gather. Constructing an interior is similar to creating an outfit. Like fashion, a great room is contingent upon great basics. This "canvas" is elevated to a look with esoteric layering pieces. I picked a cream Collins sofa and a matching (deliciously deep) arm chair with ottoman.  We created a more defined space by adding two etageres on either end of the sofa to display personal accents: fashion books, framed pictures by the kids and kitschy white ceramics that smacked of my collection of Jonathan Adler pottery at home.  A polished aluminum dome floor lamp jutting glamorously over the arm chair added a kooky Brady Bunch meets Hollywood Hills vibe.  Contrast is essential to an interior. So we placed Mor0ccan print two poufs by the sofa. They added some energy to the overall design and served as functional seating for the extra kids always running around my house.
Room makers: dramatic Moroccan poufs, artfully layered etageres, vintage-inspired steamer trunks and bold graphic pillow.

To a room –and an outfit-accessories are critical. They convey personality. And, attitude.  I am a flea market fiend and diehard francophile. To convey this, we stacked vintage inspired steamer trunks next to the sofa. A strategically situated console table behind the sofa is a perfect perch for accent pieces. A '50s style sunburst mirror and antique-y looking clock stamped "Paris" proclaim my love of all things vintage. There is a fine line between artfully displayed objects and clutter. I attired my two-tier coffee table with stacked fashion books and an enormous platter of candy. Underneath, board games were stacked neatly on a tray. Pillows are jewelry for the home. Burnt orange and aubergine pillows punctuated with (&) ampersand pillows were perfect fodder for a writer. A chocolate brown shag carpet tied in the whole look together.
 
THE LOOK: MODERN AMERICAN WITH A VINTAGE INSPIRED TWIST
VOILA! A comfortable, stylish room for the whole family to hang out in. I loved working on this project and am, in fact, replacing the itchy mid-century modern pony chaise in my bedroom with the La-Z-Boy Collins chair and ottoman!
 
Want to win the opportunity to win a 5K Shopping Spree? Check out Please  La-Z-Boy's Facebook page and vote for my  vignette!
We moms have schlepped, cooked and organized the minutia of multiple lives all year. Now it is time for the family to show their devotion. A homemade card is sweet. But, proving your love in the form of a material item will get you far more mommy mileage. Remember, no hint, no get. Simply print this gift guide out and place it in top of your husband's pillow.
1. GROOVY GYM GEAR
Spice up your workout with Puma BodyTrain Slim Capris $55 +Gaiam CorePlus Reformer resistance bands $29.98
2. TANGERINE DREAM
An oversized clutch adds wow factor to any basic Heather Belle Co. Oversized Ella Clutch $395
3. CASE STUDY
A personalized iPhone cover is a Mom's piece de resistance. Customize atUncommon
4. HEAVEN SCENT
A luxe candle burning at the end of the day sucks away the stress. Jo Malone Nectarine Blossom & Honey candle $65
5. WRAP ARTIST
Elevate a look in a snap with Yarnz balloon cashmere scarf at SHOPBOP $187
6. PREGGO PAMPERING KIT
I curated a limited-edition luxury pampering kit for moms-to-be packed with my favorite things: My book, Bump it Up, Foot Petals insoles, Josie Maran argan lip gloss, Mama Mio Tummy Rub, Psi bands, Vosges chocolate, Zoe Organics face wash PLUS special offers from Spanx, Blanqi, Bashful Bump and Viacord: Citrus Lane Pampered Pregnancy Box $65
7. CUFF LOVE
A statement cuff adds insta-glam to everything from jeans to dresses.
Target Gold Cuff with Wired Agate $19.99
Kara Ross NY Middle Divide Cuff, gold with chartreuse lizard $225
Topshop Square Metal Clamp Bracelet $28
8. HAUTE STUFF
The steamy ingredients for a perfect date night, Eberjay Cleo Chemise $69 + the best-selling erotic novels,50 Shades of Grey by E.L. James trilogy, $10 per book
9. POT HEAD
Luxury + humor + ceramics = a winning (& witty) combination Jonathan Adler's provocative pots in Uppers($98), Poppers($88) and Dolls($28)
10. RELAXED MAMA
End the day with muscle melting products from LA-based Spa Ole Henrickson 3-Step Body Indulgence Kit $49
I am headed to Paris with my daughter on Friday. A serial traveler, I pack for every conceivable in-flight situation. And, I dress in way that is at once comfortable and chic.  Just in case Robert Pattinson or Karl Lagerfeld should sit near us on the flight.
On the fashion front, it is all about super soft leggings and long sleeved tee shirt. Layered over the shirt is a DKNY cashmere "cozy" and a extra wide cashmere scarf that can double as a blanket. Flexible ballet flats are a must.The entire outfit is, of course, black. Why? The ultimate neutral, black is flattering, urbane, sleek and chic. It also does not show the accumulated dirt and grime of an international flight. Flying will suck the moisture from your face and body. Throughout the flight, I pat my face with Sonya Dakar Omega Booster oil and lubricate my eyes with Refresh eye drops. I swab AYR nasal gel (germs can enter the bloodstream through cracked nasal passages!) inside my nostrils before the flight. Cooties are a huge issue. I wipe down the whole area and tray with anti-bacterial wipes. I always bring the Bug Off Chair Cover to cover the airplane seat. This washable fabric cover is a barrier between me and the filthy seat. Wipes are also used to open and close the bathroom door. And to flush the toilet. I always bring two changes of clothes and my toiletries kit on the flight. Whether you fly first class or coach, bags get lost all of the time and you don't want to waste your precious vacation hunting down clothes. I pack them in Flight001 Space Paks, which keeps everything super organized. Also in my carry-on are a gold pendant necklace, some gold earrings, sunglasses and lip gloss. I pop them on upon arrival to Paris to create some je ne sais quoi drama for my all-black look. My daughter, of course is in a similar kid-ified get up. She has her own chair cover, wipes and Ayr.
For medical maladies that may crop up en route, always have kids and adult  Advil, Pepto Bismol, Imodium, Band Aids and antibiotic ointment on hand. For ascending and descending, I am a huge fan of Ear Planes, which regulates air pressure naturally within the ear.
Au revoir
1. Michael Stars cotton long sleeve shirt $55
4. Drift Eyewear sunglasses, prices vary
5. Boutique 9 flexible ballet flats $69
6. Sonya Dakar Omega Booster $42
7. Make Up For Ever Lip Gloss $19
10. Black Pashmina scarf $24.98
11. Children's Advil $6.99 & Children's Pepto-Bismol $5.29
13. Wet Ones Antibacterial $3.99
14. Bug Off Chair Cover $29.99
16. Goldfish crackers 
Stop the presses. I am officially a door buster.

I will go to great lengths for style. And, am often mortified (post acquisition) at what I will/would/will endure to hunt and gather the objects of my affection. Case in point? The activities surrounding the March 8th sale of uber expensive Marni for H&M.  Now, I have been bowing down to the temple of Marni since the early 90's. Designer Consuelo Castiglione's upbeat prints and signature slouchy fit are my version of wardrobe perfection. But, in order to score discount designer duds, one must wade through the degradation that punctuates a fast fashion shopping experience.

Having spent decades conquering sample sales in NYC and LA, I knew that my chances at nabbing my wish list would double if I had a partner. So, I enlisted my trusty assistant, Alaina, to coordinate an attack plan. In order to snap up fabulous fast fashion, one must physically go to the store. Very early. You see, these pieces are made in limited edition so they sell out within hours of their release into the wild. We planned for Alaina to get in line first so I could get my kids ready for school. But, after monitoring the sale on twitter, I could see the merch was already selling out across the country. So, I bribed my husband to stay home and get kids' organized. Then-hair still in sleep ponytail-I hightailed by bus to Michigan Avenue by 8 am.

I was not alone. There were swarms of women drooling like Lionesses over fresh meat.
 
.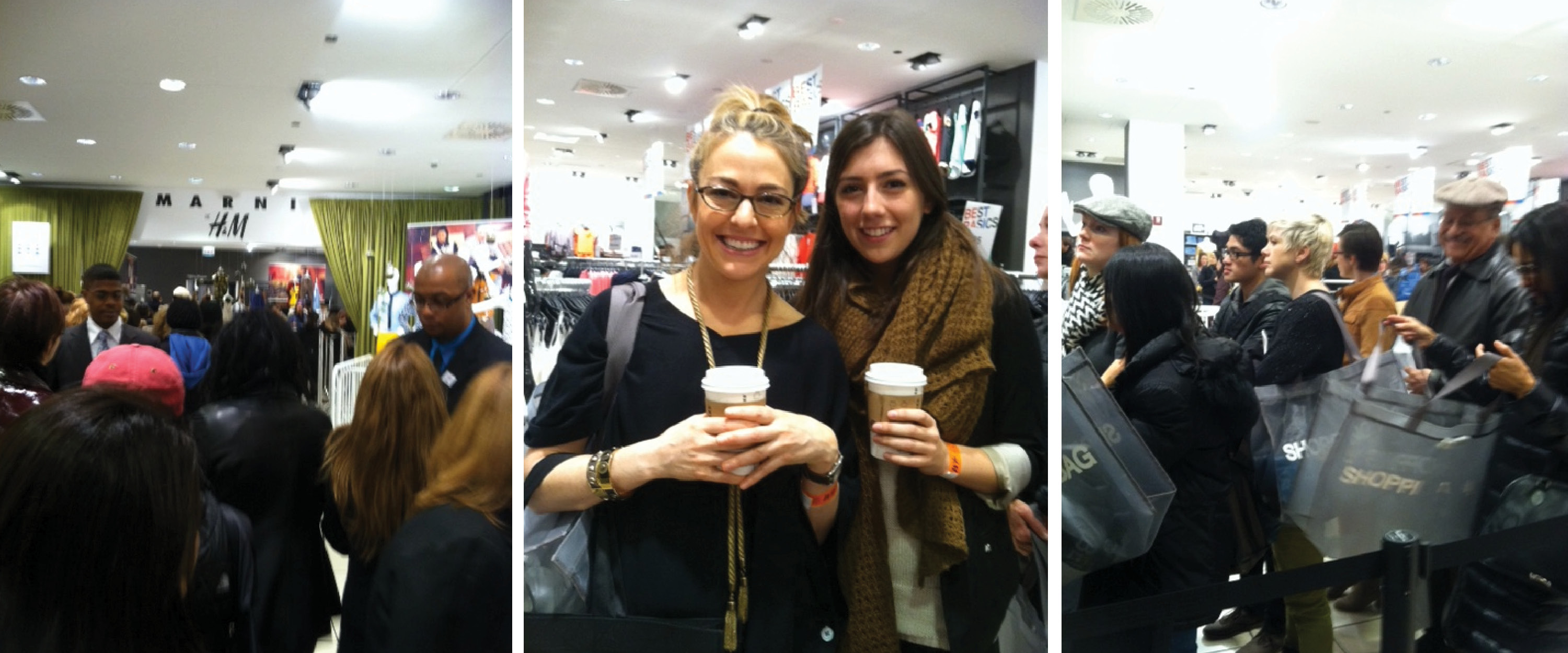 Humorless guard keeping shoppers at bay, Amy and Alaina caffeinating    
                                               and sea of Marni/H&M hopefuls

Though we were told on the phone that we could shop at 8am, this was not to be. Instead, we were given color coded wristbands with the stipulated shopping time. So, though I arrived at 8:15 am, I could not shop-or even browse-the collection until 10:05. Now, I am the type who can finagle an upgrade from at the Four Seasons from standard room to suite. I routinely wangle my way to First Class on American Airlines. I have sat in the front row at YSL couture in Paris (when issued a seat in the nosebleed section) and can essentially talk my way into almost any situation. But, I could not get H&M personnel (I even called the PR department) to budge on my designated shopping time. In fact, the dour security at H&M felt positively Storm Trooper-esque. Shoppers were herded up by bull horn & lined up behind stanchions. Rules of the sale were shouted out: 15 minute time limit to shop. No re-entering the sale area from dressing rooms. Limit of two of a single item could be purchased. Wrist bands were checked with military precision 3 times prior to entering the sale area. And, the final indignity, a DJ was on site to blast obnoxious dance music in what felt like an attempt to maximize frayed nerves. When I approached the gloriously accessorized mannequins to examine the designs, guards formed a human blockade and commanded me to retreat. Frustrated, I moved to the front of the store and watched as the hoarding commenced. Forget mesh shopping bags. Sly fashion fiends were scooping up multiples of everything and loading their goods onto garment racks. I watched with mounting anxiety as the fabulous floral chokers and cuffs were depleted before my eyes. Then the mound of sleek platform shoes began to dwindle. Style stress is a breeding ground for new BFFs. Friendships were forged. Shopping strategies were hatched. Coffees were inhaled. I actually found an adorable model for an upcoming tv segment I was producing.

.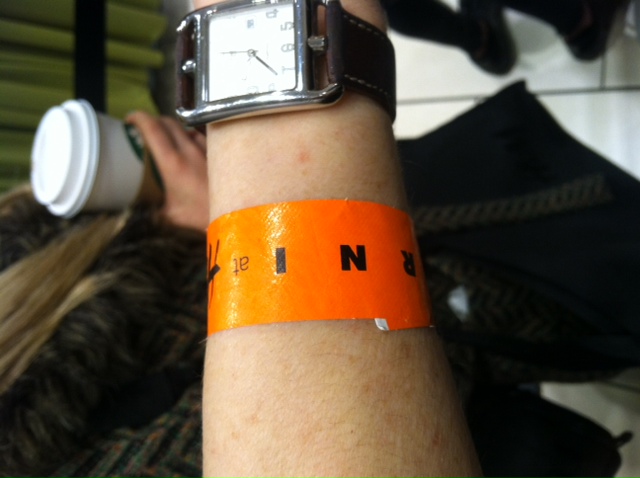 We have to wait until 10.05?!


As 10:00 rolled around, we were all on high alert protecting our terrain in the 10:05 line.. A woman starting elbowing her way to the front. I alerted my newfound buddies and we headed her off and pelted her with evil eyes. At long last, our time was called. We were commanded to raise our left arms to display our wrist bands as we marched forth to the promised (fashion) land. I charged into the pit (to the lyrics of STAYING ALIVE, ironically) stockpiling my bags with anything that may work. The glam accessories were gone. But, we stuffed our bags with the color blocked dresses, sporty black nylon windbreakers and African themed tops. Next up? The moment of truth. The dressing room. After all of the waiting, everyone wanted their efforts to be endorsed with a prize purchase. Not everyone was rewarded. Size 10s were shimmying into size 6. Size 6 was swimming in size 12. And, some experienced the sad truth: what looks great on a mannequin does not work on every body type.
.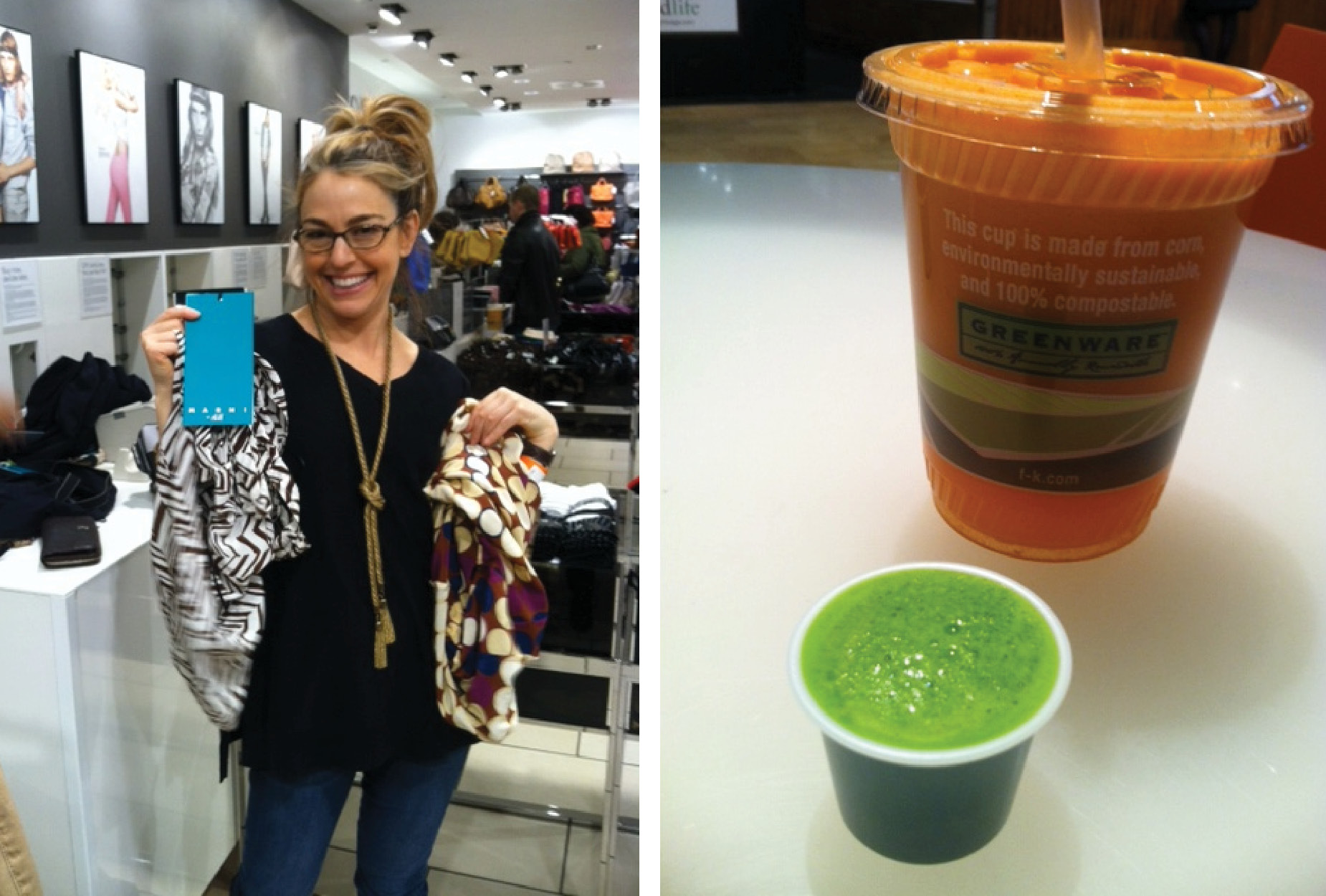 Amy with her spoils and post-shopping elixirs to rebalance 

Luckily, I scored. A lot of what I selected was parfait. But, I was pissed that some of my wish list had not been on the sales floor. So, I waited. Some of those polka dot ¾ coats and cardigans were most likely sequestered behind dressing room doors. My assistant kept her eyes trained on the "didn't work" rack while I sat waiting to pounce on discarded merch left by my fellow shoppers. Some women were willing to barter. A jacquard top for a print Capri? A size 4 shirtdress for platform wedges? Finally, at 11 am, I had enough. With a pounding head and bulging shopping bags, I ambled out of the store. It was an experience, yes. But, not one that I am not likely to repeat again.
Nothing says "wow!" like an unidentifiable retro accent.  Sporting something that nobody else can buy is the requisite ingredient for fashion lust.

The spring runways were filled with florals, geometric prints, Wide cuffs, rope necklaces, chain belts, lace, ruffles, polka dots inspired by the 50s, 60s and 70s.. Instead of buying pricey designer simulations, shop vintage to get the real deal. A groovy, eclectic blend of sporty modern and vintage is what catapulted Kate Moss into the realm of fashion icon. First stop? Mom's closet. Scoop up 70's silky blouses, fringed cashmere wraps, anything Pucci, Paisley scarves, a retro logo belt and glitzy Knot's Landing style jewelry to add pizzazz to jeans or black leggings. Great vintage does not have to be a bold faced designer. A no name satin lined evening bag complete with mirror is classic cool. A mink boa with Aunt Mabel's name stitched on the lining is haute chic. A quirky medallion, old school chain belt, beaded bracelet, Indian bangles, wooden cuffs and massive beaded necklaces will yield gargantuan global glitz Of course, if your mom has none of these treasures, swap meets, flea markets, thrift stores and vintage emporiums are excellent resources.
Vintage pieces: 1. Celine gold jacket // 2. Gucci satchel // 3. Gucci scarf // 4. Vintage gold chain belt (which can double as a necklace!) // 5. Hermes studded cuff

But, beware.  There is a fine line between serious "vintage" and old crap. Vintage is that glam little touch that elevates mere clothing to "a look. Quality vintage is special. It is that red polyester blend Studio 54 Halston dress. Your granny's Hermes belt. A 60s Mary Quant trench coat.  Conversely, a boxy pink blazer with cheap gold buttons from your first job interview is crap and should be given away. Ditto on the sateen blouse with linebacker shoulder pads.

When deciding whether something is crap or not, think…WWKMW? (WHAT WOULD KATE MOSS WEAR)? And act accordingly.

HOMEWORK: tear-sheet the looks that you like from magazines and create an "inspiration board." Take photos of these with your phone before you head out to hunt so you have a reference point. And remember to do the sniff test. If something smells like mothballs or worse, do not buy it. It is very hard to get rid of a decades' old stink.
Busy women can create a big style statement with a small but mighty wardrobe.
Fashion is overwhelming. And moms have little time to get ready in the morning. The result is a legion of women who have taken to wearing leisure wear as ready to wear. Every so-tired-I could-kvell mom can attest to the magnetic urge to slip into sweats, a boxy tee and skidaddle out the door to conquer her day. It's easy. It's comfortable. It's evil. Here's why. The (non) fit is addictive. Once you make sweats and other baggy apparel your go-to garb, you will never want to trade them in for "real" clothes. They are voluminous, making legs look stocky and thighs resemble tree trunks. The result is a serious case of the frump and dumps.
How to stop leisure wear in its tracks? Let's examine that mom at school who always looks "pulled together" and iconic women like Grace Kelly, Jackie Kennedy and Audrey Hepburn. They, in fact, have a common bond: a signature style. When you look closely, you see that their clothing is always a variation on a theme: a belted fit and flare dress, leggings and ballet shoes, a sheath dress with a matching jacket. Jeans and a drapey t-shirt. Their secret is to approach fashion formulaically. They have a collection of basics — leggings and a tunic, a wrap dress, slinky tees and skinny jeans — that they know are flattering and "work" for their body type. This "uniform" of foolproof silhouettes delivers an effortless, uncomplicated style that defines "pulled together." Though it varies from woman to woman, a uniform is comprised of versatile, dress-them-up, dress-them-down essentials that "work" for every occasion. These pieces are the tabula rasa, or blank slate, of your wardrobe. With a flattering "canvas" at the ready, time consuming guesswork and "dress stress" is eliminated from the morning mayhem. Adding eye-popping accessories like a scarf, a colorful, slouchy knit, a necklace and earrings creates another element of style to basics that express ones' personality and yields a pulled together point of view.
The system is simple. Establish THE UNIFORM, four to five easy and flattering silhouettes. These basics will be rotated daily and groovified with colorful cardigans, swingy print jackets and other eye catching LAYERING PIECES. Dynamic accessories — long layered necklaces, gold bangles, beads, cocktail rings, an animal print belt — are what infuses garments with WOW FACTOR and your personality. Your ability to MIX & MATCH layering pieces and wow factor will allow you to change up your look in five minutes flat. This, my friends is the secret to effortless style. A "uniform" delivers a flattering look in five minutes flat.
I am so happy to be included in PARENTS round up of expert tips for a March 2012 feature entitled FABULOUS IN A FLASH . My tips?
·         A statement necklace instantly pulls an outfit together.
·         Scarves are must have layering pieces. They add "pop" and make you look taller
·         No time to shower? Dry shampoo is the perfect solution to oily hair

        .         
My Glammy Granny at Her 90th Birthday Party
Behind many fashion gals stands a glamazon granny. My fashion flair is directly linked to my chic grandmother, Seated in her Diorissimo laced closet, I had a backstage pass to elegance and saw firsthand that comfort is only part of the style equation. Impeccably dressed tout les temps, Hilda Koch did not suffer slobs gladly. And, she despised sweat pants. Like so many women of her era-Hilda believed that "looking your best" was the eleventh commandment. Inspired by Paris couturiers and Hollywood screen sirens, Many women, like my grandmother, looked at VOGUE for inspiration. She then bought the patterns and fabric and created the garments themselves. An artist, she then hunted down dramatic accessories to jazz everything up. The same concept holds true today. We can glean trend information from the runways and magazines, and head out to Nordstrom Rack to get "the look for less". ! My grandmother also taught me about dressing for one's body type. Like so many women of her era-Hilda believed that "looking your best" was the eleventh commandment. Accepting her pear shape, she amassed a collection of blousons, slacks and dresses that played down her girth and served as a backdrop for her artsy accessories. Her accent pieces- exotic coin belts, fur boas (with attached fox heads) Adolfo hats, beaded elbow length gloves and colorful, fringed shawls -brought her outfits to life: Her brand of perma-chic (like K Hepburn, Dietrich and Bette Davis) was all about a signature style; a tried and true look that played up her face and neck and camouflaged the parts of the body that were headed south, east and west. And makeup? REQUIRED! She never left the house without her "paint and perfume". It was all part of the package.  Because she had a "uniform" "getting dressed" was easy. And, no mistakes were made. Though our body types could not be more opposite, my grandmother's approach to style influenced me immensely.
The trick is developing a signature style. Grace Kelly. Fab first ladies Michelle Obama and Jackie Kennedy, style swan Audrey Hepburn and that mom at school pick up that ALWAYS LOOKS cute all have a common bond: a signature style. When you look closely, you see that their clothing is always a variation on a theme: a belted fit and flare dress, leggings and ballet shoes, a sheath dress with a matching jacket. Jeans and a drapey t-shirt.  This "uniform" of foolproof silhouettes delivers an effortless, uncomplicated style that defines "pulled together." Though it varies from woman to woman, THE UNIFORM is comprised of versatile, dress- them- up, dress –them- down essentials that "work" for every occasion. These pieces are the tabula rosa, or blank slate, of your wardrobe. With a flattering "canvas" at the ready, time consuming guesswork and "dress stress" is eliminated from the morning mayhem. Boring? MAIS NON!  Garment rotation is the key to effortless dressing.