Im lucky. I travel frequently for work and get to Europe at least once a year. An exuberant shopper, I pick up bits and baubles from each and every jaunt. But, even if you cant get to your dream destination this summer, you can look as if you have just returned from a fab, farawy locale. My story in Marie Claire shows you how…read full story here!
Steaming temps & pool parties are the stuff of summer fantasies. But, the sun, heat and chlorine can wreak havoc on your body. How to protect yourself? By stashing an arsenal of five minute fixes in your beach bag; beauty tools designed to safeguard highlights, hair, eyes and skin from harmful effects of summer.
LIPS
Dry, flaky lips are no fun. Keep your pucker in perfect condition with SPF infused product and a nourishing scrub
1. Bliss Fabulips Sugar Lip Scrub $18
2. Laura Mercier Hydratint with SPF 15 $20
3. Smashbox Limitless Long Wear Lip Gloss with SPF 15 $22
HAIR
Sun is evil to those with chemically enhanced manes. Maintain highlights with UV protection
4. Fekkai Cooling Shine Mist $25
5. Bumble and Bumble Defrizz $26
6. Unite 7 Seconds Leave in Conditioner and Detangler $26.25
7. Redken Color Extend Sun Solar Spray $34.95
SUNSCREEN
Not all sunscreens are created equal. The best are broad spectrum paraben free creams with moisturizing properties. Even if your makeup contains SPF, you should layer a hard-core sunscreen underneath for maximum protection.
8. SkinCeuticals Physical Fusion UV Defense SPF 50 $32
9. Seventh Generation Baby Sunscreen SPF 30 $13.99
10. Sunology Natural Sunblock Stick SPF 35 $12.99
11. Josie Maran Argan Sun Protection SPF 30 $24
12. Sonya Dakar Daily Face Shield SPF 30 $45
HYDRATION
Keep your complexion dewy all day with a moisture enhancing schpritz  on the fly.
13. Evian Mineral Water Spray $11
14. Arcona Mineral Magic $38
15. Josie Maran Travel Size Argan Oil $14
EMERGENCY TOOLBOX
Itchy eye. Smelly armpits. Sunburn. Be prepared for every situation with a stash of minis in your bag.
16. Atopalm Moisturizing Cleansing Wipes $14
17. Clear Eyes Itchy Eye Relief $1.20
18. Lavanila The Healthy Mini Deodorant $10
Summertime is all about BBQs, picnics, and- if you are lucky-an invitation to a house by the shore. What to bring? A groovy gift that ensures a return invite next year. Here are some of my favorite host/hostess gifts. And, they are all $50 or less!
GREEN MARKET GOODIES: jams from and fresh peonies from your local Green City Market. 

 
ARTISINAL OILS & VINEGAR: The perfect topper for grilled vegetables and salads 

 
FOR THE FRANCOPHILE: Marseilles Soap collection  

 
VINO-RIFIC: Prosecco and instant cooler sleeve for al fresco meals

 
FOOTWEAR FABULOSITY: Get your hosts size and dazzle them with  custom flip flops by Brazilian brand Havaianas (Starting at $20) 

 
TASTE OF EUROPE: they may not be headed to the Olympics in London or Provence, but proffer a DIY basket of candy and chips from Europe in rattan (re-usable) tray from WORLD MARKET /Cost Plus

 
WRITE-ON!: PHOTO NOTEPADS. WOW your guests with groovy notepads bearing their likeness. 

 
COOL COOKBOOKS from BETTER WORLD COOKBOOKS where a percentage funds literacy worldwide 

 
GASTRO-GAG: KNOCK KNOCK's hilarious foodie flashcards make fun of the ever more complex foodie terminology 

 
CUSTOMIZED CHOCOLATE BARS: Design-and name- a special chocolate bar for your host formulated with his/her favorite ingredients. Pick the flavor chocolate (dark, milk, white) and flavor it with a variety of fruits, nuts and candy. You can buy as many bars as you wish. 

 
POWER BASICS: colorful kitchen essentials by SANDRA by SANDRA LEE for KMART

 
PERSONALIZED LIBRARY LABEL STICKERS: Damask Ex Libris Personalized Library Labels Stickers, $7 Personalize your family library with these customized stickers that go on inside of each book.
 
 
GROOMING IN A SNAP: HEMERGENCY KIT by Ms. & Mrs. This sleek, black mesh dopp bag contains 22 emergency essentials for busy guys. From clothing stains to static cling, the Hemergency Survival Kit takes the guesswork out of men's personal care. Smaller than a football, this ultra-compact collection can go anywhere he does–from home to the office and everywhere in between. 
 
When you have a huge chest, getting dressed is a challenge. Each morning, you gaze into the mirror and think, Good God, how do I reduce the kapow impact of my boobs? Going with a low a neckline can be too sexy. Conversely, enclosing them with too much fabric creates the dreaded "uni-boob." Here's what to do:
Stick with dark colors on top. They act as a minimize. An open neckline and simple silhouette is the most flattering. Steer clear of tops with crew, polo and turtleneck, as higher necklines will impart the afore mentioned an odious "uni-boob" effect. Stay away from attention grabbers like metallic, large prints and jeweled embellishments, as they will only spotlight your breasts. Patterns and prints can definitely be a part of your wardrobe, but they look best on the bottom. And, a loose bra does nobody any favors. An ill-fitting bra is super frumpifying. When breasts are centered and well supported in the right bra, you look taller and slimmer. Look in the mirror. If you see droop, it is time for a fitting and a new bra.
 
Open, scoop and V neck tops are most flattering because the exposed skin breaks up the line from shoulder making chest look smaller. 
Stay away from attention grabbers like metallic, large prints and embellished tops. 
Avoid shiny fabrics and baggy tops which will accent the chest and add weight. 
Balance proportion with a flared wrap dress, empire waist dresses, or shift dress. Keep hems above the knee.
A wider leg pant will balance out your figure. 
According to Susan Nethero, founder of Intimacy boutiques nationwide, a great bra has everything to do with looking and feeling your best. "Women associate looseness with comfort. A loose bra is unstable and contributes to droopage and bra fat. The right bra centers the breasts and creates a more flattering shape. Women need a combination of rigid and stretch to create tension for support. A perfectly sized bra (usually with underwire) offers the lift and pertness that  women crave."
When La-Z-Boy called to ask me to design a room for their new Chicago showroom, I was on the fence. Me? Lover of luxury? Then, I took a peek at their newly revamped site and my perception of Archie Bunker-style recliners dissolved in a mist of pleather. What I saw were the building blocks of interior style; sofas, loveseats, deep armchairs with ottomans, sleek coffee, console and cocktail tables.  The merchandise was impressive. But, the prices were astounding. Having spent the past five years "doing" my house, I am only too aware how exorbitant furniture can be. A sofa can easily set you back 7K. These were a fraction of the prices I was accustomed to at my usual haunts. So, I rose to the occasion. I routinely show women how attainable fashion is at every price point. Why not prove this philosophy on the interior front?
 
Style: It's all in the details
 
THE DESIGN PROCESS
I decided create a family room where fashion meets function. To showcase my eclectic point of view, I wanted to pull together a cool mix of cozy but sophisticated furniture electrified by pops of color and statement making accents.  My design partners, Courtney and Christine got my "look" immediately. Together, we began to hunt and gather. Constructing an interior is similar to creating an outfit. Like fashion, a great room is contingent upon great basics. This "canvas" is elevated to a look with esoteric layering pieces. I picked a cream Collins sofa and a matching (deliciously deep) arm chair with ottoman.  We created a more defined space by adding two etageres on either end of the sofa to display personal accents: fashion books, framed pictures by the kids and kitschy white ceramics that smacked of my collection of Jonathan Adler pottery at home.  A polished aluminum dome floor lamp jutting glamorously over the arm chair added a kooky Brady Bunch meets Hollywood Hills vibe.  Contrast is essential to an interior. So we placed Mor0ccan print two poufs by the sofa. They added some energy to the overall design and served as functional seating for the extra kids always running around my house.
Room makers: dramatic Moroccan poufs, artfully layered etageres, vintage-inspired steamer trunks and bold graphic pillow.

To a room –and an outfit-accessories are critical. They convey personality. And, attitude.  I am a flea market fiend and diehard francophile. To convey this, we stacked vintage inspired steamer trunks next to the sofa. A strategically situated console table behind the sofa is a perfect perch for accent pieces. A '50s style sunburst mirror and antique-y looking clock stamped "Paris" proclaim my love of all things vintage. There is a fine line between artfully displayed objects and clutter. I attired my two-tier coffee table with stacked fashion books and an enormous platter of candy. Underneath, board games were stacked neatly on a tray. Pillows are jewelry for the home. Burnt orange and aubergine pillows punctuated with (&) ampersand pillows were perfect fodder for a writer. A chocolate brown shag carpet tied in the whole look together.
 
THE LOOK: MODERN AMERICAN WITH A VINTAGE INSPIRED TWIST
VOILA! A comfortable, stylish room for the whole family to hang out in. I loved working on this project and am, in fact, replacing the itchy mid-century modern pony chaise in my bedroom with the La-Z-Boy Collins chair and ottoman!
 
Want to win the opportunity to win a 5K Shopping Spree? Check out Please  La-Z-Boy's Facebook page and vote for my  vignette!
We moms have schlepped, cooked and organized the minutia of multiple lives all year. Now it is time for the family to show their devotion. A homemade card is sweet. But, proving your love in the form of a material item will get you far more mommy mileage. Remember, no hint, no get. Simply print this gift guide out and place it in top of your husband's pillow.
1. GROOVY GYM GEAR
Spice up your workout with Puma BodyTrain Slim Capris $55 +Gaiam CorePlus Reformer resistance bands $29.98
2. TANGERINE DREAM
An oversized clutch adds wow factor to any basic Heather Belle Co. Oversized Ella Clutch $395
3. CASE STUDY
A personalized iPhone cover is a Mom's piece de resistance. Customize atUncommon
4. HEAVEN SCENT
A luxe candle burning at the end of the day sucks away the stress. Jo Malone Nectarine Blossom & Honey candle $65
5. WRAP ARTIST
Elevate a look in a snap with Yarnz balloon cashmere scarf at SHOPBOP $187
6. PREGGO PAMPERING KIT
I curated a limited-edition luxury pampering kit for moms-to-be packed with my favorite things: My book, Bump it Up, Foot Petals insoles, Josie Maran argan lip gloss, Mama Mio Tummy Rub, Psi bands, Vosges chocolate, Zoe Organics face wash PLUS special offers from Spanx, Blanqi, Bashful Bump and Viacord: Citrus Lane Pampered Pregnancy Box $65
7. CUFF LOVE
A statement cuff adds insta-glam to everything from jeans to dresses.
Target Gold Cuff with Wired Agate $19.99
Kara Ross NY Middle Divide Cuff, gold with chartreuse lizard $225
Topshop Square Metal Clamp Bracelet $28
8. HAUTE STUFF
The steamy ingredients for a perfect date night, Eberjay Cleo Chemise $69 + the best-selling erotic novels,50 Shades of Grey by E.L. James trilogy, $10 per book
9. POT HEAD
Luxury + humor + ceramics = a winning (& witty) combination Jonathan Adler's provocative pots in Uppers($98), Poppers($88) and Dolls($28)
10. RELAXED MAMA
End the day with muscle melting products from LA-based Spa Ole Henrickson 3-Step Body Indulgence Kit $49
I am headed to Paris with my daughter on Friday. A serial traveler, I pack for every conceivable in-flight situation. And, I dress in way that is at once comfortable and chic.  Just in case Robert Pattinson or Karl Lagerfeld should sit near us on the flight.
On the fashion front, it is all about super soft leggings and long sleeved tee shirt. Layered over the shirt is a DKNY cashmere "cozy" and a extra wide cashmere scarf that can double as a blanket. Flexible ballet flats are a must.The entire outfit is, of course, black. Why? The ultimate neutral, black is flattering, urbane, sleek and chic. It also does not show the accumulated dirt and grime of an international flight. Flying will suck the moisture from your face and body. Throughout the flight, I pat my face with Sonya Dakar Omega Booster oil and lubricate my eyes with Refresh eye drops. I swab AYR nasal gel (germs can enter the bloodstream through cracked nasal passages!) inside my nostrils before the flight. Cooties are a huge issue. I wipe down the whole area and tray with anti-bacterial wipes. I always bring the Bug Off Chair Cover to cover the airplane seat. This washable fabric cover is a barrier between me and the filthy seat. Wipes are also used to open and close the bathroom door. And to flush the toilet. I always bring two changes of clothes and my toiletries kit on the flight. Whether you fly first class or coach, bags get lost all of the time and you don't want to waste your precious vacation hunting down clothes. I pack them in Flight001 Space Paks, which keeps everything super organized. Also in my carry-on are a gold pendant necklace, some gold earrings, sunglasses and lip gloss. I pop them on upon arrival to Paris to create some je ne sais quoi drama for my all-black look. My daughter, of course is in a similar kid-ified get up. She has her own chair cover, wipes and Ayr.
For medical maladies that may crop up en route, always have kids and adult  Advil, Pepto Bismol, Imodium, Band Aids and antibiotic ointment on hand. For ascending and descending, I am a huge fan of Ear Planes, which regulates air pressure naturally within the ear.
Au revoir
1. Michael Stars cotton long sleeve shirt $55
4. Drift Eyewear sunglasses, prices vary
5. Boutique 9 flexible ballet flats $69
6. Sonya Dakar Omega Booster $42
7. Make Up For Ever Lip Gloss $19
10. Black Pashmina scarf $24.98
11. Children's Advil $6.99 & Children's Pepto-Bismol $5.29
13. Wet Ones Antibacterial $3.99
14. Bug Off Chair Cover $29.99
16. Goldfish crackers 
Stop the presses. I am officially a door buster.

I will go to great lengths for style. And, am often mortified (post acquisition) at what I will/would/will endure to hunt and gather the objects of my affection. Case in point? The activities surrounding the March 8th sale of uber expensive Marni for H&M.  Now, I have been bowing down to the temple of Marni since the early 90's. Designer Consuelo Castiglione's upbeat prints and signature slouchy fit are my version of wardrobe perfection. But, in order to score discount designer duds, one must wade through the degradation that punctuates a fast fashion shopping experience.

Having spent decades conquering sample sales in NYC and LA, I knew that my chances at nabbing my wish list would double if I had a partner. So, I enlisted my trusty assistant, Alaina, to coordinate an attack plan. In order to snap up fabulous fast fashion, one must physically go to the store. Very early. You see, these pieces are made in limited edition so they sell out within hours of their release into the wild. We planned for Alaina to get in line first so I could get my kids ready for school. But, after monitoring the sale on twitter, I could see the merch was already selling out across the country. So, I bribed my husband to stay home and get kids' organized. Then-hair still in sleep ponytail-I hightailed by bus to Michigan Avenue by 8 am.

I was not alone. There were swarms of women drooling like Lionesses over fresh meat.
 
.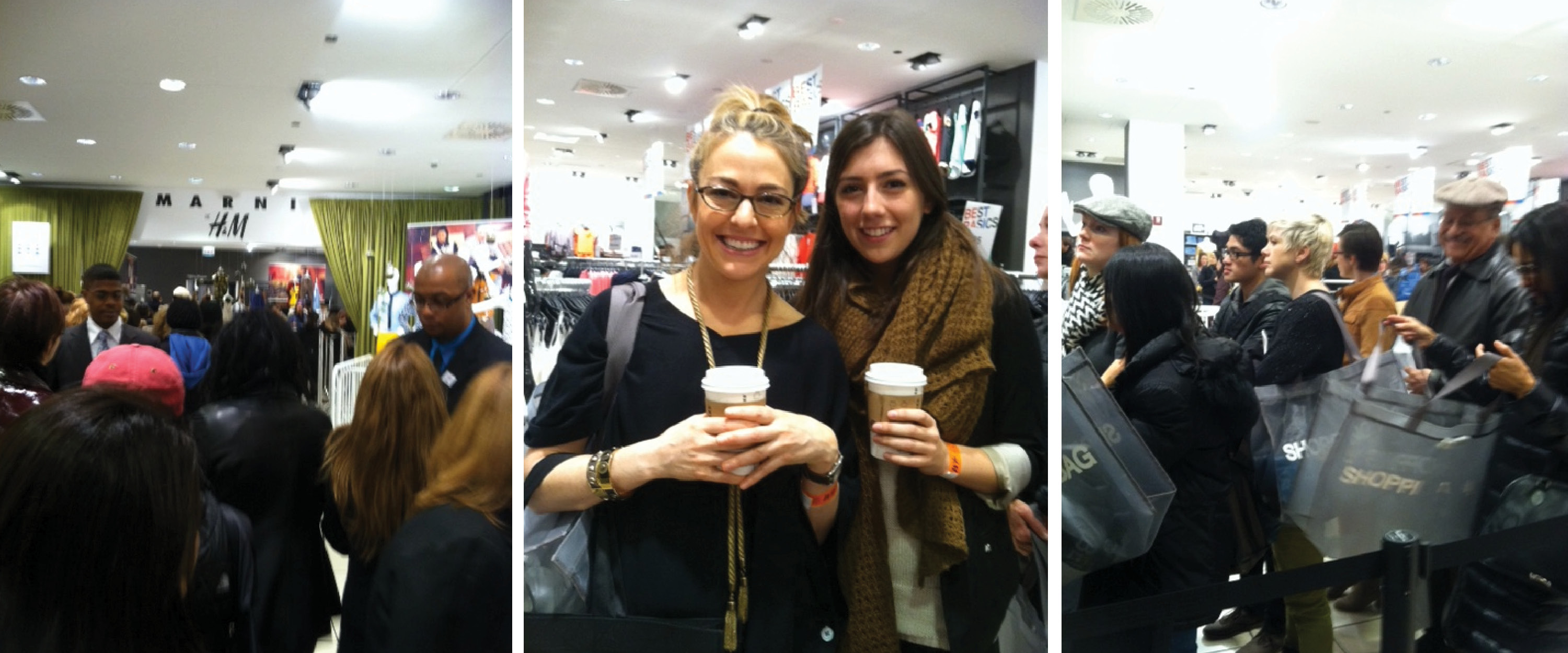 Humorless guard keeping shoppers at bay, Amy and Alaina caffeinating    
                                               and sea of Marni/H&M hopefuls

Though we were told on the phone that we could shop at 8am, this was not to be. Instead, we were given color coded wristbands with the stipulated shopping time. So, though I arrived at 8:15 am, I could not shop-or even browse-the collection until 10:05. Now, I am the type who can finagle an upgrade from at the Four Seasons from standard room to suite. I routinely wangle my way to First Class on American Airlines. I have sat in the front row at YSL couture in Paris (when issued a seat in the nosebleed section) and can essentially talk my way into almost any situation. But, I could not get H&M personnel (I even called the PR department) to budge on my designated shopping time. In fact, the dour security at H&M felt positively Storm Trooper-esque. Shoppers were herded up by bull horn & lined up behind stanchions. Rules of the sale were shouted out: 15 minute time limit to shop. No re-entering the sale area from dressing rooms. Limit of two of a single item could be purchased. Wrist bands were checked with military precision 3 times prior to entering the sale area. And, the final indignity, a DJ was on site to blast obnoxious dance music in what felt like an attempt to maximize frayed nerves. When I approached the gloriously accessorized mannequins to examine the designs, guards formed a human blockade and commanded me to retreat. Frustrated, I moved to the front of the store and watched as the hoarding commenced. Forget mesh shopping bags. Sly fashion fiends were scooping up multiples of everything and loading their goods onto garment racks. I watched with mounting anxiety as the fabulous floral chokers and cuffs were depleted before my eyes. Then the mound of sleek platform shoes began to dwindle. Style stress is a breeding ground for new BFFs. Friendships were forged. Shopping strategies were hatched. Coffees were inhaled. I actually found an adorable model for an upcoming tv segment I was producing.

.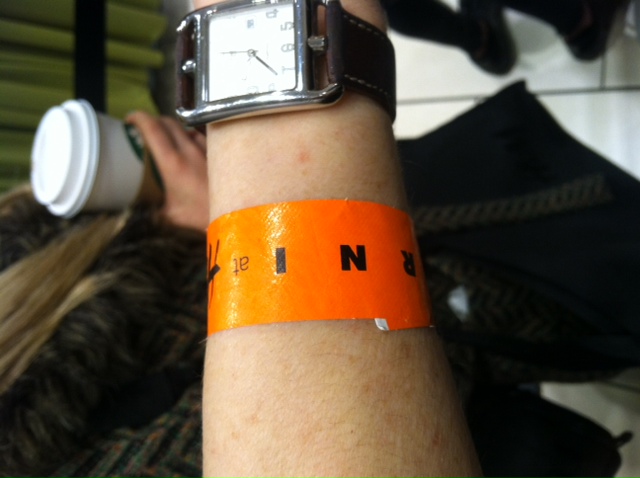 We have to wait until 10.05?!


As 10:00 rolled around, we were all on high alert protecting our terrain in the 10:05 line.. A woman starting elbowing her way to the front. I alerted my newfound buddies and we headed her off and pelted her with evil eyes. At long last, our time was called. We were commanded to raise our left arms to display our wrist bands as we marched forth to the promised (fashion) land. I charged into the pit (to the lyrics of STAYING ALIVE, ironically) stockpiling my bags with anything that may work. The glam accessories were gone. But, we stuffed our bags with the color blocked dresses, sporty black nylon windbreakers and African themed tops. Next up? The moment of truth. The dressing room. After all of the waiting, everyone wanted their efforts to be endorsed with a prize purchase. Not everyone was rewarded. Size 10s were shimmying into size 6. Size 6 was swimming in size 12. And, some experienced the sad truth: what looks great on a mannequin does not work on every body type.
.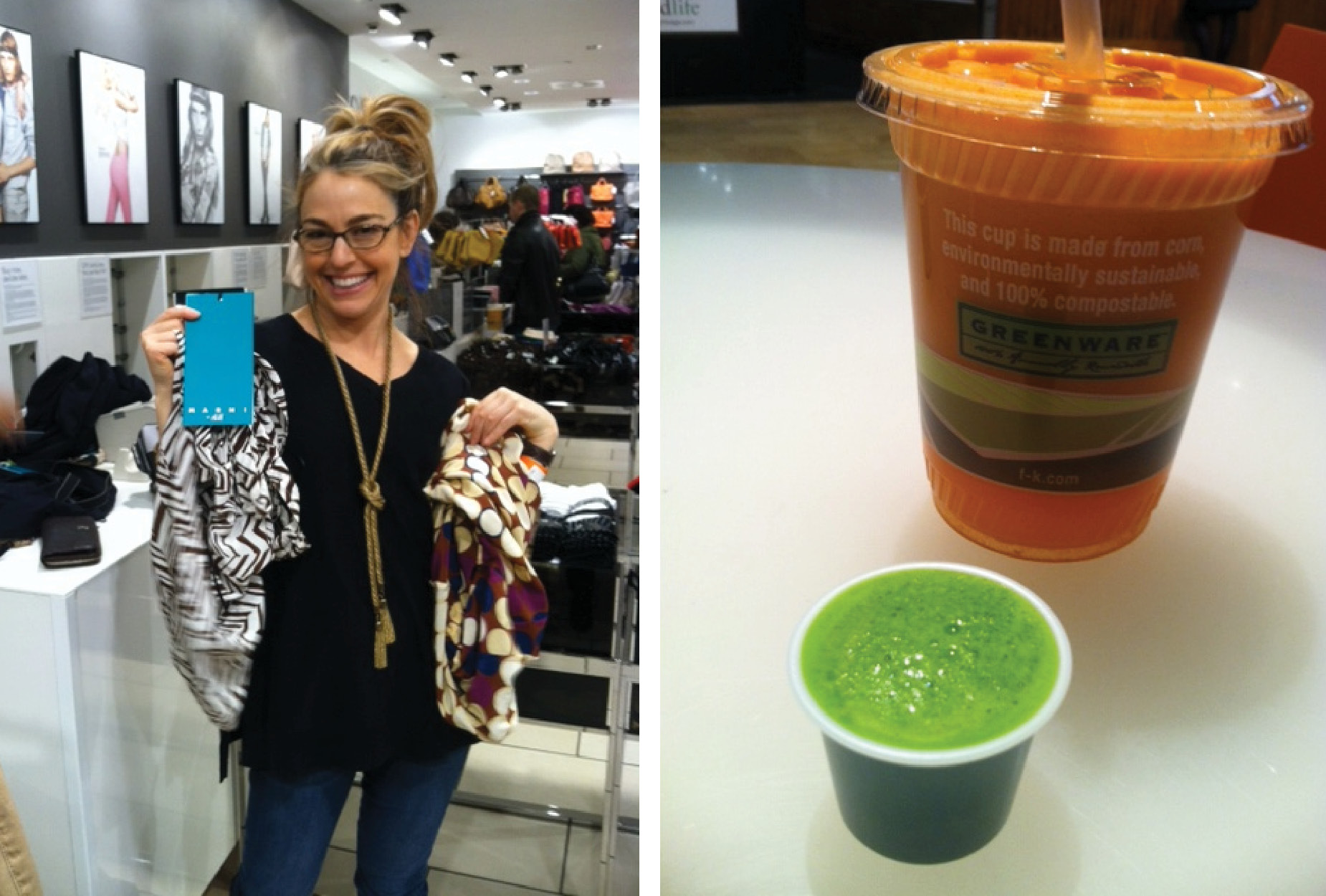 Amy with her spoils and post-shopping elixirs to rebalance 

Luckily, I scored. A lot of what I selected was parfait. But, I was pissed that some of my wish list had not been on the sales floor. So, I waited. Some of those polka dot ¾ coats and cardigans were most likely sequestered behind dressing room doors. My assistant kept her eyes trained on the "didn't work" rack while I sat waiting to pounce on discarded merch left by my fellow shoppers. Some women were willing to barter. A jacquard top for a print Capri? A size 4 shirtdress for platform wedges? Finally, at 11 am, I had enough. With a pounding head and bulging shopping bags, I ambled out of the store. It was an experience, yes. But, not one that I am not likely to repeat again.